Quikshade Portable Pop Up Gazebo LWS
6m x 3m
20 Year Limited Lifetime Frame Warranty
6m x 3m LWS  Supplied with carry bag, guy ropes and pegs
The 6m x 3m is a brand new size of QuikShade.  This is now the largest QuikShade available in LWS.  Suitable for families, markets, clubs, schools, camping, promotional activities, karting, motorsports, pit tents, and Surf Life Saving.  The High Peak assists in water run-off and creates a larger area for branding and printing.  Additional side posts are available on this unit.  All wall options apply, gutters and awnings. Multiple units can be joined with a gutter strip to create larger shaded areas. The very first QuikShades were 3m x 3m and used a roof strut similar to the LWS, and some of these are still in use after over 25 years! The LWS like all QuikShade frames has a 20 year limited lifetime frame warranty – Our frames are built to last a lifetime.
Get A Quote
Description
SUPERIOR QUALITY FOR YOUR PEACE OF MIND
SUPERIOR QUALITY FOR YOUR PEACE OF MIND
You can rely on a Quikshade™ portable shelter to perform year after year, because of the inherent quality of the components that go into its manufacturing process.
CANOPY
500 Denier polyester with a urethane coating.
Made from waterproof fabric – professionally tested by Australian Wool Testing Authority Ltd.
UV 98% – professionally tested by Australian Radiation Protection and Nuclear Safety Agency.
Flame retardant – professionally tested by CSIRO and Australian Wool Testing Authority Ltd.
Quality reinforced corners and peak section.
Available in a huge range of colours.
FRAME
Extruded 6106 T5 – superior commercial grade aluminium.
Rust free
Brackets – are a combination of premium grade aluminium and industrial heavy duty nylon.
Adjustable height with telescopic legs.
PACKAGE
Your complete purchase includes:
The Quikshade™ frame of your choice,
Canopy in the colour of your choice,
Guy ropes,
Pegs and carry bag.
Superior Pegs – made from hi-tensile steel with an MPA (Mega Pascals) rating from 550-850. Standard steel is rated at 200-300 MPA.
Guy Ropes – made from 3.6m marine grade polyethylene staple rope that is UV treated and has a breaking strain of 350kg, for your added safety.
Heavy Duty Carry Bag – made from Kodra fabric with a PVC coating for waterproofing and extra strength.
---
Lite Weight System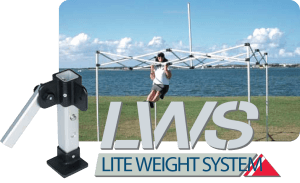 Brackets are industrial grade heavy duty nylon, making the Lite Weight System – product more flexible, reducing breakage or snapping.
The Lite Weight System is easily transportable and perfect for all occasions. NB. 3.0m x 3.0m Lite Weight System was developed to meet the baggage limits for aircraft.
---
Optional Extras
A full range of extras is available for your particular needs.
From transparent walls, mesh walls, 1/2 walls, doors, windows, pockets for posters, or even add a gutter, which easily attaches to join QuikShade™ products together.
Awnings add extra shade, protecting your stock and customers alike. Extra legs are also available to reduce flapping of walls on those extra windy days, while sandbags add stability.
---
BE DIFFERENT, HAVE SOME FUN!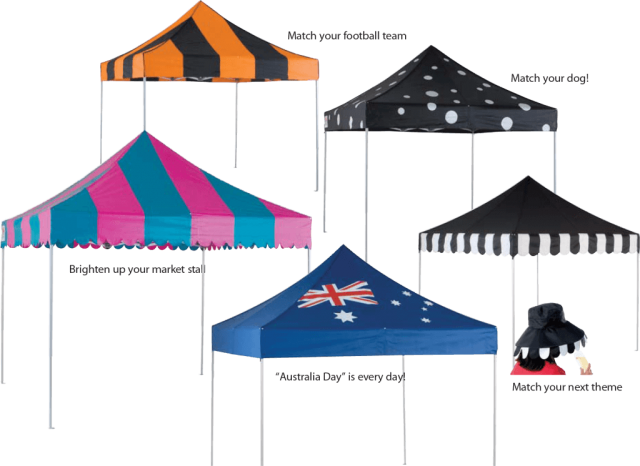 If you don't want to be standard, then stand out with a customised shade. It's easy.
We have customised shades for all types of applications, sizes and in a myriad of colours from stripes to polka dots. Our craft and attention to detail are exemplary, so don't hesitate to be creative and make your Quikshade™ really stand out.
---
Grab A Brochure Now, Click Below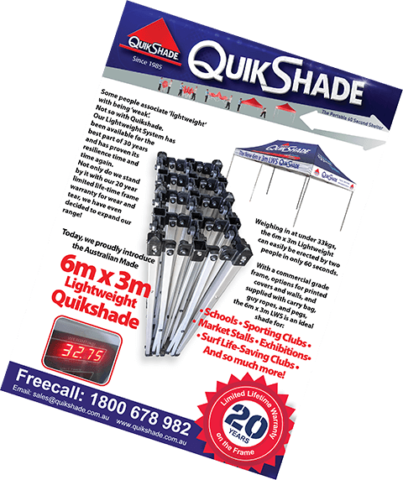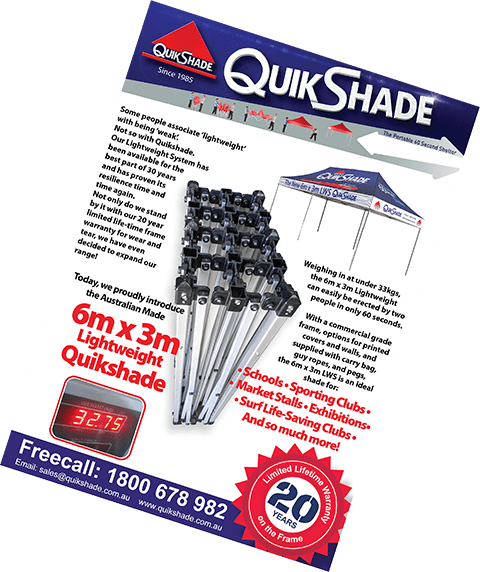 Only logged in customers who have purchased this product may leave a review.